1. Footed bath tubs are possibly the coolest thing ever...
2. Sparklers. They are beautiful. Simple, summer-y, and exciting...
3. John Singer Sargent's painting, "Carnation, Lily, Lily, Rose"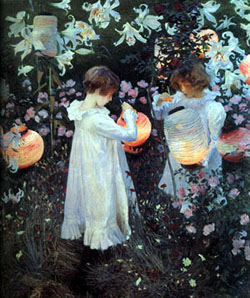 5.
"Drama is, 'that willing suspension of disbelief for the moment, which constitutes poetic faith' poetic faith. It's a beautiful idea."
Geoffrey Tennant, quoting
Samuel Taylor Coleridge
, in an episode of
Slings and Arrows
. (If you haven't seen this mini-series I highly recommend it, and I have no doubt that I will shamelessly promote it in the near future...)
6. Edith Piaf singing La Vie en Rose...
7. Bosc Pears
8. this typewriter
9. Old cigar boxes. This picture is the same as one I have. Except, on mine, the clasp is broken. I have it tied up with a piece of silky turquoise ribbon. A couple of times a year, I'll untie it and read all of the old letters tucked inside.